Reliability. Quality. Satisfaction.
The Most Trusted AC Company in Kingwood, TX
Those aren't just marketing words, they are the promises our AC company makes to every customer in the Kingwood, TX area. And we don't break our promises!
If your system isn't cooling, please turn it off before it causes more damage.
Honest Residential AC Service, Repair, and Installation
As the most trusted air conditioning company in Kingwood, TX, our team of highly skilled technicians has the knowledge and expertise to provide you with the solutions you need in HVAC maintenance, AC repairs, and AC installations.
A home that is too hot or too cold is not a comfortable home. Your comfort and peace of mind in your cooling and heating system are our utmost priority. Madd Air of Kingwood, TX provides quick response, quality service, and affordable pricing.
For the best heating and cooling service in Kingwood, TX, and the surrounding community, give Madd Air a call today at (281) 354-9600.
THE BEST KINGWOOD AC COMPANY?
We never leave a customer unhappy – that's our guarantee!
We at Madd Air put our clients first, offering them the smartest solutions and speediest services available in the market today. When you book us for a heating or cooling job, you can be sure that what you get will be much more than what you expect.
We guarantee 3 simple promises to you that we feel should be the foundation of any successful business.

When your AC stops blowing cold air, you want it fixed immediately. We're here when you need us with after hours service.

We use only the best parts and equipment available from the most trusted HVAC suppliers in the industry.

Our ultimate goal is to ensure that you are completely satisfied with the end result of your HVAC service or repair.
As the premier AC company in Kingwood, Madd Air's team arrives at your home prepared with state-of-the-art equipment, expertise, and replacement parts to repair any problem you have with your system.
Meet The Team Ready to Serve You
Serving The Community We Love
Charlie Enriquez
Owner
Since 2011
Justin Inglis
Lead Technician
Since 2016
Sam Sparks
Technician
Since 2017
Joseph (JJ) Henderson
Technician
Since 2020
Camilo Rosales
Technician
Since 2021
Louis Enriquez
Install Coordinator
Since 2023
Nick Ramirez
Warehouse Manager
Since 2022
Turix Cortez
Lead Installer
Since 2011
Heather Vonfeldt
Office Manager
Since 2018
Yuri Rosales
Office Admin
Since 2022
Maddy Enriquez
Office Admin
Madd Air's namesake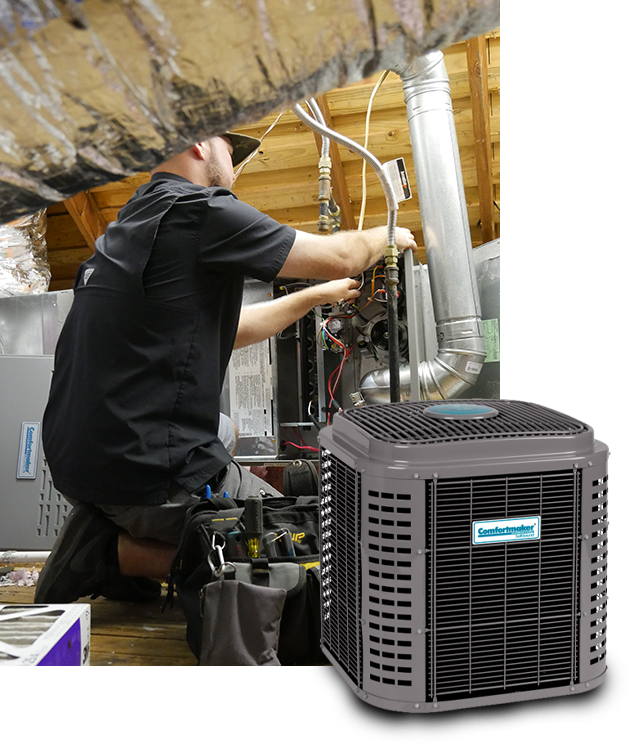 We're Trusted by Over 500 of Your Neighbors
"Today my AC stopped working and Justin and Joseph were able to come over quickly and replace the capacitor and clean out the vent lines that were causing my system to shut off. They were both very professional and knowledgeable. I will definitely be using this company again for any other issues that may arise. It is very refreshing using a service company that is so honest and friendly."
"Excellent across the board, could not have gotten better service. A/C went down last night and I called Madd Air this morning. Was greeted with wonderful customer service, given a time on the same day. Justin showed up at the beginning of that time frame. He quickly diagnosed our issue and resolved our problem with ease. He was courteous and professional and our A/C has been working perfectly! Will be recommending this company highly from now on."
"We have lived in our house 17 years and it finally happened, our AC needed to be replaced! Justin came to our house, tried all the things, but in the end we needed to install a new unit! He took a very long time to prepare and then explain all our options. He also called The company for us to check on the warranty on a part previously installed. The extra time and steps this company takes is one of the many reasons you should use them for your ac/heating needs! Installation was great and we are now very comfortable in our home!! Thank you Madd Air!!"
"The gas valve on our heater was stuck so we had no heat on a Friday night. The entire team was beyond nice and made every effort to help us. Camilo spent his Friday night figuring out our problem then was out first thing Saturday to get our heat back. He was incredibly professional and explained exactly what had happened and how he would fix it. I highly recommended Madd Air because they have taken care of us so well."
"I called Madd Air on a Saturday morning because my heat quit working the night before. As always, they responded very quickly. Camilo was knowledgeable and extremely patient. He offered us 3 different options/resolutions to our issue and took the time to explain each one in detail. Thank you Camilo and Madd Air for providing customer service the way it should be!"
"We love MADD Air! They just replaced our inside and outside unit and it was such a smooth process. Camillo answered my many questions and was very patient with me. He was there the day of install to make sure I understood the process and even followed up with me the next day to make sure I was happy with everything. Great process!"
"Justin walked us through the various options for full HVAC replacement, including duct replacement. The crew showed up on time, had us cooling by the end of the first day, and finished up the next day. They were professional, and did a great job for us. We are happy with the work and nice job they did bringing our HVAC up to date!"
HVAC Tech Tips & Articles